The standard tuning software of the MegaSquirt Community has raised the bar for the industry

Supporting all MegaSquirt Firmwares

 Cool Dashboards? Tune it for you with VE Analyze Live! Easy to use interface? TunerStudio MS brings all the features of TunerStudio to all MegaSquirt users! Currently the only software fully supporting all versions of MegaSquirt 1, MegaSquirt 2 and MegaSquirt 3, TunerStudio will simplify your MegaSquirt experience.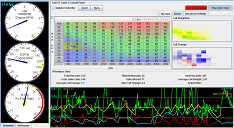 Megasquirt first evolved from a Do It Yourself project to low cost alternative, to now with MS3 matching or exceeding the feature set of the best high end fuel injection controllers. Now TunerStudio brings MegaSquirt tuning software unmatched by any other aftermarket EFI controllers at any price.
The free version of TunerStudio MS, known as TunerStudio MS Lite is hands down the leading MegaSquirt software, it allows you to fully set up and tune any MegaSquirt controller with a more refined and simpler interface than all previous options, then with a registration key you can unlock everything TunerStudio MS has to offer!